Barrisol Cloud Clim® - Details
Barrisol Cloud
C

li

m

® - Details
Aesthetic, silent and homogeneous air-conditioning
Biosourcée
®
Powered by terminal or air handling unit, hybrid heating/cooling thermal diffusion.
All comfort techniques concentrated in a unique design object.
Hybrid
radiation/convection

thermal diffusion combines power and efficiency

Cloud Clim® utilizes the hybrid thermal diffusion principle of the Barrisol Clim® ceiling air conditioning system in a compact modular version.

The combination of convection and radiation makes it possible to achieve high heating/cooling capacities whilst ensuring a perfectly homogeneous temperature.

The thermal radiation of the Biosourcée® membrane saves energy consumption.
No draught thanks to the patented
adaptive air flow

principle
Modular, flexible and efficient air-conditioning light
Customised format on request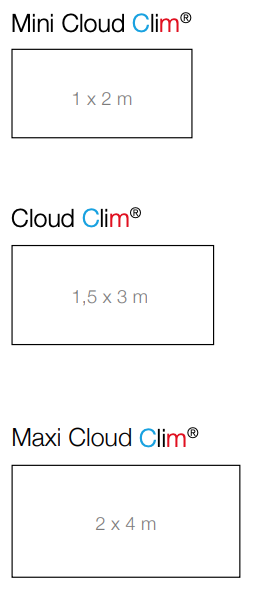 Unlimited freedom of assembly
Example of a linear arrangement of Maxi Cloud Clim® - 3 Modules

Example of an adjoined arrangement Mini Cloud Clim® - 8 Modules

Example of a Cloud Clim® acoustic light format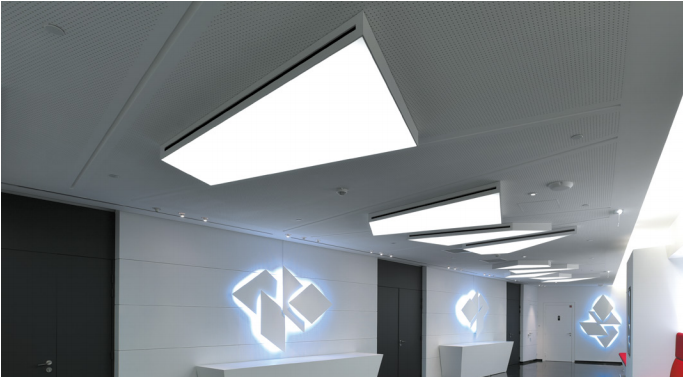 Cloud

C

li

m

® : Personalise your islands with only the limit of your imagination
Cloud

C

li

m

® : Supply and return air in a single module
No more air conditioning or ventilation grilles needed in your space since Cloud Clim® ensures the diffusion of treated air as well as the intake of indoor air and its filtration in only 20 cm thick.
Cloud

C

li

m

® Flex : Supply and return air in a single module
Cloud

C

li

m

® All in one : extra-flat integrated terminal unit, hot water / chilled water connections
Light and durable materials
Our Cloud Clim® products are composed of a structure made of over 80% post-recycled and 100% recyclable aluminium, making the raw material reuse cycle even more environmentally friendly.
Integrating the latest generation of Barrisol Biosourcée® membrane, also 100% recyclable and whose plasticizer is of vegetable origin comprising up to 30% of the total composition.
Composed of light materials, 100% recyclable and recycled for some, the Cloud Clim® islands minimize the Carbon impact of your buildings, they benefit from a fire classification B-s1, d0 and an air emission A+.
Cloud

C

li

m

® unparalleled efficiency for the acoustic treatment of your premises
Intelligent lighting integration
Entirely backlit, equipped with Barrisol Light Lines® or incorporating the lighting of your choice, Cloud Clim® ensures the lighting of your premises.