Finishing works
FINISHING WORKS
All types of spaces can be equipped with a Barrisol stretched ceiling. Here are some frequent cases :
Cornices and beams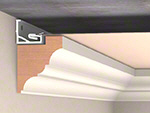 Integrated cornice
Composed of a Barrisol Tradition track and cornice out of samba wood to be painted or varnished.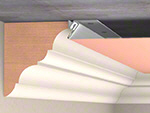 Existing cornices
The ceiling Barrisol Star adapts to the height left by the shape of the cornice for its installation.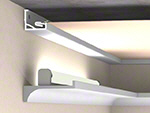 Cornice with lighting
Lighting cornice, placed at 200 mm of the wall, diffuses its light on the matt or satin ceiling.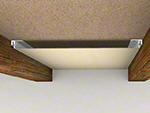 Stretched ceiling Barrisol Star between beams
Barrisol Star Tracks are fixed at the existing ceiling. The ceiling is stretched beam to beam.
Incorporation of pipes, pillars, columns
Barrisol pipe incorporation system:
Resistant and aesthetics for a remarkable finishing of the Barrisol Tradition and Barrisol Star ceilings.
For pipes of water, electricity, heating... etc.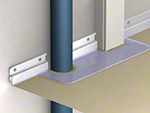 With less than 3 cm of the wall
The stretch ceiling, reinforced of a resistant translucent plate, circumvents the pipes. The system is not visible after the installation.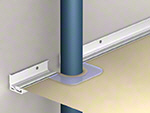 To 3 cm of the wall
Stretch ceiling reinforced by a translucent plate and insert in a Barrisol Tradition track.
Curved and notched tracks for pillars and columns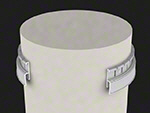 Diameter < to 28 cm for : Barrisol Tradition and Barrisol Star
Barrisol Star Tracks are pre-notched for an exact adaptation to the circumference of the pillars.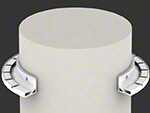 Diameter > to 28 cm, Barrisol Tradition
Barrisol Tradition Tracks out of PVC are curved in factory to the measurements of the pillars and columns Connection of the tracks by aluminum sleeve.
Embedding
Many decorative possibilities can be considered by the installing a Barrisol Star ceiling in another Barrisol Star ceiling.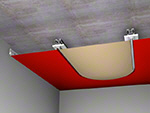 Barrisol tracks for embedding
Barrisol Star tracks for embedding of the duo Barrisol Star.
Sky-lights, roof windows, rolling shutters, inspection panels are embedded in the Barrisol Tradition and Barrisol Star ceilings.
All technical equipment can be incorporated: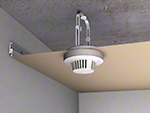 Smoke detector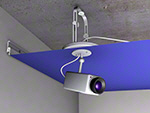 Surveillance camera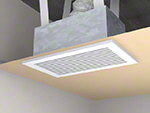 Ventilation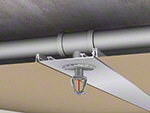 Sprinkler integrated in separation track
Sprinkler integrated in the stretched ceiling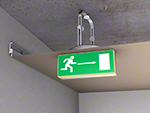 Safety light