Barrisol Light Lines® - Details
Barrisol®
L

ight

L

ines® - Details

Illuminate with a new light source.
Advantages
Reduced power consumption
Very low voltage electrical system
The lifetime of the LEDs is increased thanks to the structure

L

ight

L

ines®
Significant choice of technical solutions
Extended colour palette
Small footprint
Adaptable to all shapes
Allows to illuminate a room in a homogeneous way according to the spacing between each line of light (Study on request)
You can determine the number of lux to have in the room (Study on request)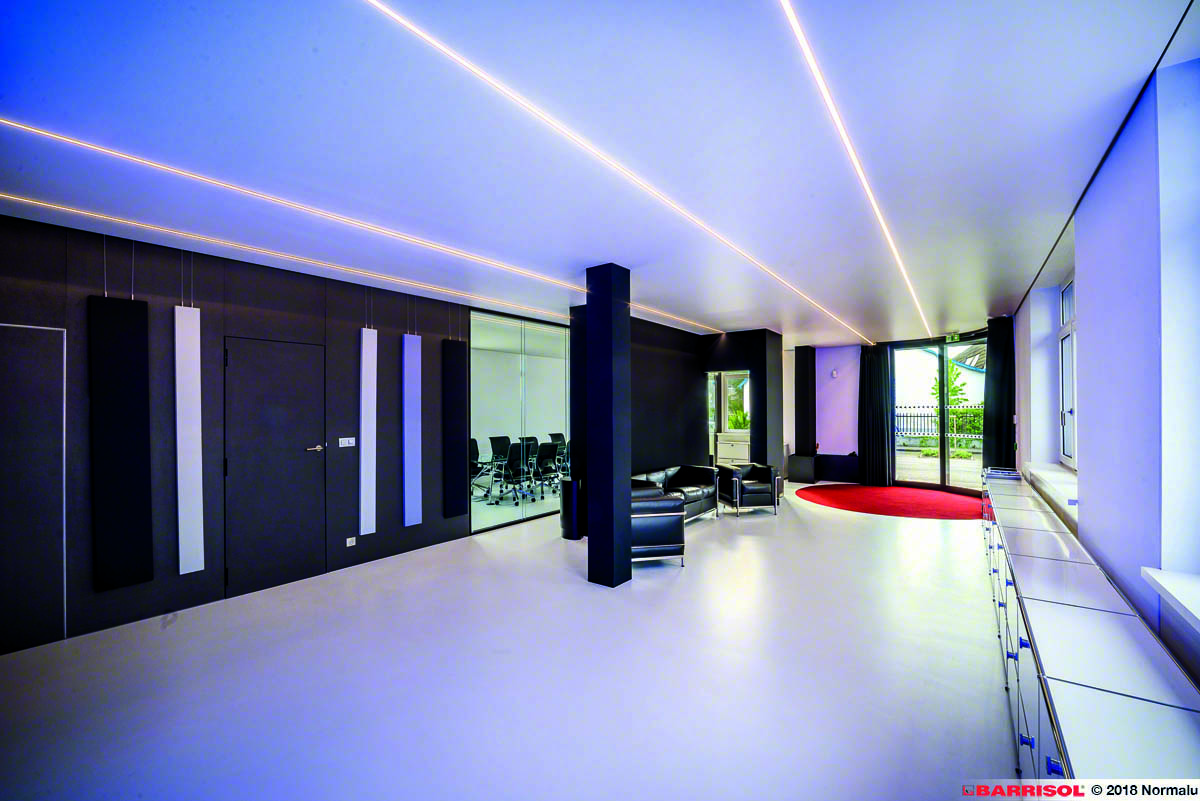 Customizable at will
With Light Lines® lighting system, you can choose the look you want, depending on your decorative desires and your lighting needs.
The Light Lines® system adapts to a variety of situations and to the entire Barrisol® range, a palette of more than 300 colours and finishes: Les Reflets Laqués®, Les Reflets Satinés®, Les Recyclés®, Les Mats Tradition®, Les Daims Ambiance®, Les Effets Matière®, Les Collections Matière®, Creadesign®, Barrisol Biosourcée®, Les Acoustics®, Les Xtrem®, Les Métal®, Les Translucides®, Les Effets Lumière®, Print your Mind®, Barrisol Mirror®, Les Perforés®.
Profiles adapted to each projet
Ref. : BS 350/13

Aluminium track for perimeter LED lighting

Ministar®

Réf. : BMS 355/14

Aluminium track for perimeter LED lighting

Ministar®

Réf. : BMS 365/40

LED separator for circle and 3D shape

Ministar®

Réf. : BMS 365/50

LED wall and ceiling separator
The Barrisol® LED profile system enables the invisible and innovative integration of lighting
It can be straight or rounded, thanks to the patented Barrisol® system
It does not require diffusing elements and thus gives optimum lighting and saves energy
The aperture of only 20 mm contributes to the unique aesthetic effect
No visible seal
Suitable for all acoustic and / or luminous ceilings
Dimmable lighting
No additional diffuser necessary (possible on request)
Energy saving
Durability
Easily change LEDs
Universal system (any type of LED, RGB or warm / cold white)
Removes separators
Allows rounded shapes and 3D shapes