Training courses
TRAINING COURSES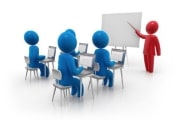 In order to integrate the BARRISOL dynamic and acquire the methods for installing BARRISOL ceilings, training courses are given on a regular basis by our state-approved training school 42680010368.

Essential for mastering our know-how, the courses are aimed at both installers and sales teams wishing to understand and get to know BARRISOL in order to best promote its technical and aesthetic qualities.

We offer 5 types of training course:
Barrisol introductory course (duration: 5 days)

For beginners only
Both technical and theoretical, this course teaches the main techniques for installing Barrisol ceilings.

Advanced Barrisol courses (for those who have already completed the Barrisol introductory course)

Barrisol Clim course (duration: 2 days)
Artolis course (duration : 1 day)
Miroir course (duration : 1 day)
ELT3D / GTS (duration : 1 day)
For practical reasons, they can also be given in your country under certain conditions (number of participants, organisation, etc.).

If you would like to register or have any questions about our training courses, please do not hesitate to contact us.