ELT3D® - Details
Barrisol® ELT

3D

® - Details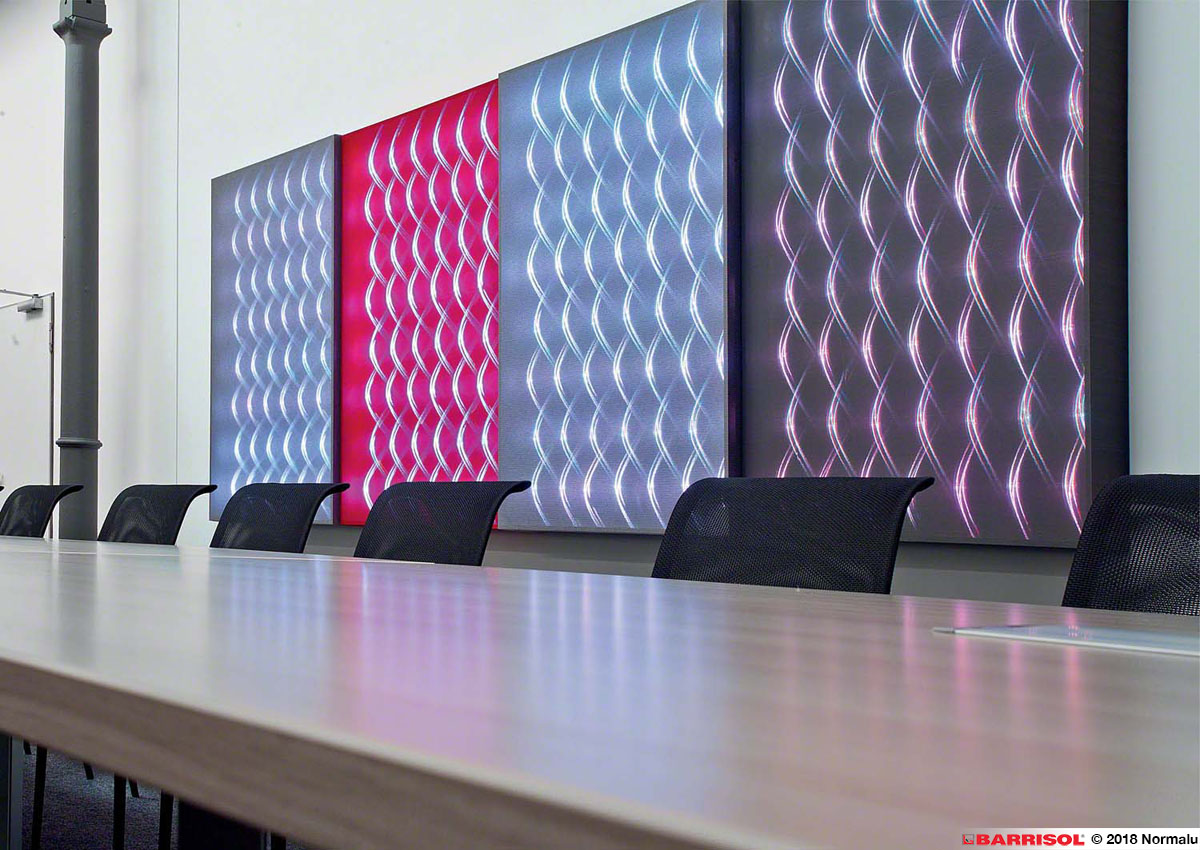 Realisation: Service R&D EL
Fascinating illuminated structures
The way that this textile material interacts with LEDs is truly fascinating, enabling it to be infused with any colour you want. The secret lies in the ELT®3D textile composition that allows it to be used in so many different ways. The ELT®3D process opens up a whole new range of decorative opportunities.
Thanks to the unique textile, polymer and glass weave, this product creates an unparalleled 3D effect.
ELT®3D light structures create true optical depth, adding volume to your spaces.
With these, you can create a sensation of more than 50cm of added depth from a real space of just 5cm.
3D light effect
The Barrisol® ELT®3D product range provides an exceptional, illuminated 3D effect by harnessing the light produced by the LEDs in the woven fabric (in a diagonal or square pattern, etc.).
ELT®3D products can also be used as an acoustic solution, incorporating a specially adapted sound absorber (acoustic light).
Lighting effects for a truly unique design
Realisation: Service R&D EL
Used as a single, illuminated ceiling, ELT®3D products can increase the apparent height of your ceiling by up to a metre – while taking up only a few centimetres in thickness.
Wherever you use it, ELT®3D works to create a harmonious atmosphere and a real sense of well-being in any environment. This forms a beautiful decorative element.
Create 3D shapes to catch the eye and increase the sense of space in a room. Create your own design according to the light source, its position and how it is programmed.
This is creative lighting. Individual designs can be made to order. By adapting the model, the number and arrangement of the light sources behind the fabric, we can create any combination of visuals that you desire.
Realisation: Service R&D EL
The effects
The advantages
Add an elegant design to your space, especially for confined or dark areas,
RGB LEDs create curves of any colour you desire,
Light weight,
Compact (with a 5cm solution, you can create the appearance of enhanced depth),
Energy saving (lighting effects with fewer LEDs),
Acoustic (used alongside acoustic insulation),
Fire safety classification B-s2, d0.
Air quality: A+.
Uses and finishes
These products can be attached to walls and ceilings, using peripheral fastenings on wall sections or custom hanging frames.
When used as a modular lighting platform integrated into your wall or ceiling, ELT®3D can bring a whole new dimension to your space.