Communication tools
COMMUNICATION TOOLS
Because good communication is essential, BARRISOL's communication department develops and regularly updates a whole range of complementary communication tools to support you in your prospecting and promotional activities.

These communication tools, which are essential to a relevant sales approach, fall into several categories.
Documentation
More than 70 catalogues and leaflets at your disposal for the presentation of Barrisol® products.
Download here all Barrisol® documentation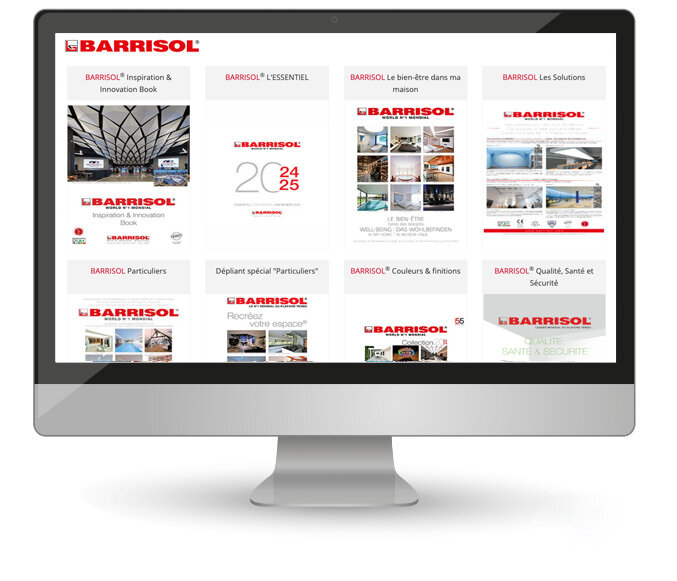 Barrisol Vision Box® luminous boxes
The luminous box 2 levels essential to visualize the effect of the light in simple and double sheet (remote control included with variator).
Advice for use: permanent display at your point of sale, on deposit with your prescriber partners and point of sale, integrated on your exhibition stands.
Barrisol® presentation cases
Barrisol fastening systems can be used to create traditional ceilings or any other shape (slopes, vaults, curves, waves, 3D, organic, etc.). 100% recyclable.
Barrimarmotte® case
In the Barrimarmotte case, you will find a portable frame of 40 x 40 cm presenting a sample of 6 sheets from the different Barrisol ranges including 2 sheets from the Mirror® range (Silver and Gold).
Barrisol "Technics & Systems" website version 6.0
More illustrated, more optimized... discover the update of the site "Technics & Systems 6.0" which will enable you to find all the systems of fixing of the Barrisol solutions for the realization of traditional ceilings or of all other forms (slopes, vaults, curves, waves, 3D, organic, etc).
https://barrisol.com/profiles/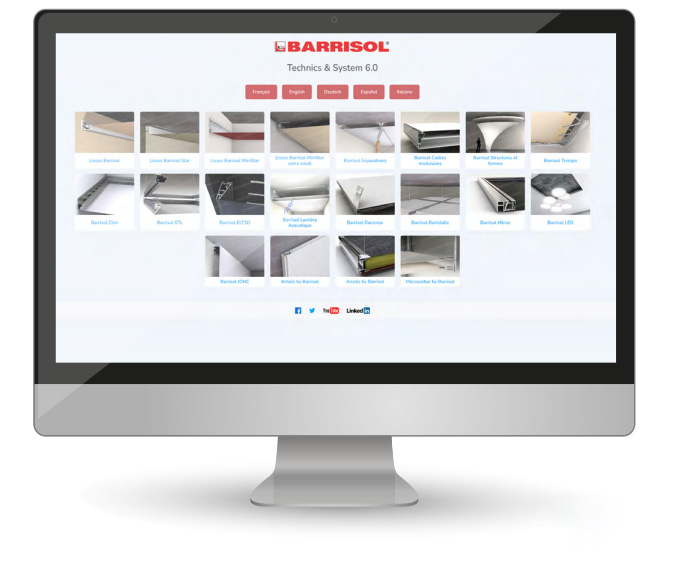 Barrisol 360° website
Discover the Barrisol 360° website, with its search engine, which offers you a virtual visit of more than 3500 projects in more than 50 countries around the world.
The search engine is only available to Barrisol distributors with a current contract.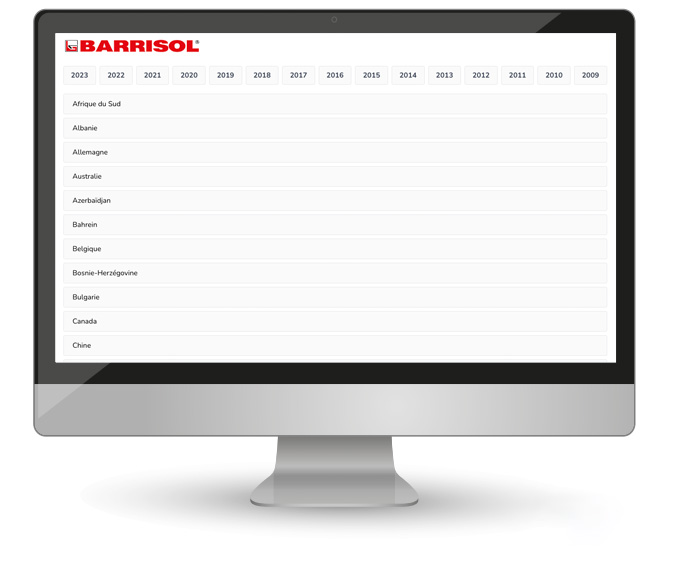 Business development tools
The tools
BarrisolPLAN software
Mailings
Please contact us for standard mailings, depending on target and volume.
Technical design office
Production of prototypes, mock-ups, assistance with quotations, technical assistance with installation.
Exhibition stands
Provision of exhibition structures, creation of stands.